Episodes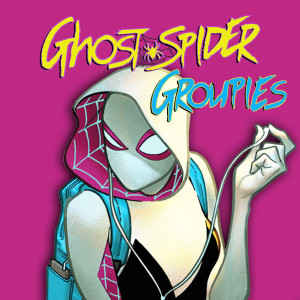 Tuesday Mar 21, 2023
Tuesday Mar 21, 2023
On this episode of Ghost-Spider Groupies:
Pax and Abigail continue discussing the End of Spider-Verse arc in Spider-Man (2022) #6!
With Silk taking up the reins of lead Spider of Earth-616, she, Morlun, and the rest of the Spider-Army launch a last-ditch effort attack against Shathra and her Great Hive!
Plus: The Week-Gwend Update, Star Wars talk, and news about Across the Spider-Verse!
E-mail us at ghostspidergroupies@gmail.com or tweet us @GSGroupies with any questions or thoughts on the show and next month's comic, Spider-Gwen: Shadow Clones #2.
Thanks for listening.
Spider-Gwen/Ghost-Spider Reading List and Where to Buy
This week's comic: Spider-Man (2022) #6
Next month's comic: Spider-Gwen: Shadow Clones #2
Music: Green Daze by Audionautix http://audionautix.com