Episodes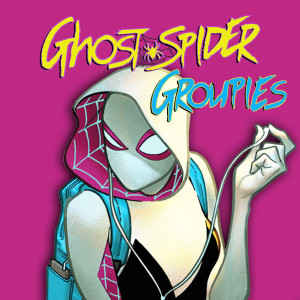 Thursday Jun 29, 2023
Thursday Jun 29, 2023
On this episode of Ghost-Spider Groupies:
Pax and Abigail discuss Spider-Gwen: Shadow Clones #4!
Ghost-Spider is held prisoner by her clones' creator, Dr. Lyla Bennett, who details her revenge plan and ultimate endgame for Gwen: the death of each and every Gwen Stacy across the multiverse!
Plus: The Week-Gwend Update, our reactions to Across the Spider-Verse, made-up science, villain archetypes, more cloning woes, and we read your comments!
E-mail us at ghostspidergroupies@gmail.com or tweet us @GSGroupies with any questions or thoughts on the show and next month's comic, Spider-Gwen: Shadow Clones #5.
Thanks for listening.
Spider-Gwen/Ghost-Spider Reading List and Where to Buy
This week's comic: Spider-Gwen: Shadow Clones #4
Next month's comic: Spider-Gwen: Shadow Clones #5
Music: Green Daze by Audionautix http://audionautix.com