Episodes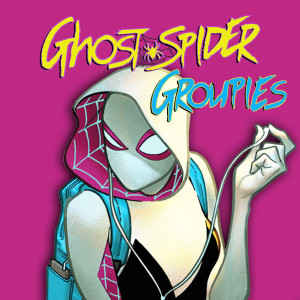 Tuesday Mar 07, 2023
Tuesday Mar 07, 2023
On this episode of Ghost-Spider Groupies:
Pax and Abigail celebrate the show's landmark 50th episode with a new installment of Gwen-65's adventures by discussing Spider-Gwen: Shadow Clones #1!
Ghost-Spider goes through her very own Clone Saga! The first clone she meets: Doctor Octopus AKA Gwen Ock! Who's cloning Gwen and what do they want with her?! Why are they based on Spider-Man's Sinister Six?!
Plus: The Week-Gwend Update, the Stacy Swear Jar, cloning woes, Shake Shack, and continuity discourse!
E-mail us at ghostspidergroupies@gmail.com or tweet us @GSGroupies with any questions or thoughts on the show and next week's comic, The Night Gwen Stacy Died.
Thanks for listening.
Spider-Gwen/Ghost-Spider Reading List and Where to Buy
This week's comic: Spider-Gwen: Shadow Clones #1
Next week's comic: The Night Gwen Stacy Died
Music: Green Daze by Audionautix http://audionautix.com